Wrinkles, sagging, hollow-looking, and loose skin can make us look old, well before our time. In turn, this can have a devastating impact on our confidence and the way we conduct ourselves in the world. After all, we look our best, we feel our best, and that flows into every interaction we have, and everything we do.
Fortunately, there is something we can do to fight the signs of skin aging, and it is to use a highly effective, targeted product like Golden Tree Ageless Creme. Keep reading to find out how Golden Tree Ageless Creme can help your skin look healthier and younger.
What is Golden Tree Ageless Creme?

Golden Tree Ageless Creme
is a wrinkle creme designed in collaboration with the renowned cosmetic surgeon, Dr. Med. Fabjan and his team of experts. It is a light, unperfumed cream that is designed to target all the following skin aging issues including
Sagging skin and a tired-looking face
Increasingly pronounced wrinkles
Loss of skin volume and enlarged pores
Dry skin and loss of shine
Loose skin on the neck and décolleté
In fact, many of our delighted and loyal users describe their skin as becoming firmer, more elastic, and tauter after just 5 minutes once they have used the creme. Others refer to Golden Tree Ageless Creme as a natural facelift in a bottle!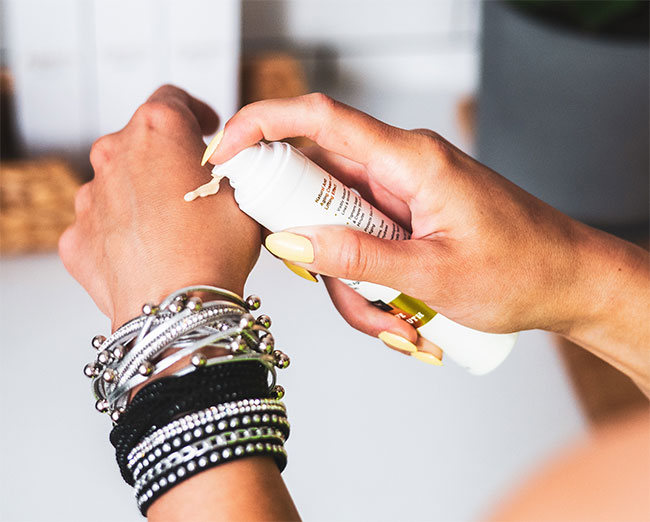 Yes, that's right with a single tube of creme you can improve all the above issues, and the great thing about Golden Tree Ageless Creme is that it works on all different kinds of skin types as well. It really is the only wrinkle creme you'll ever need. Find out how our advanced formula works in the section below.
How does Golden Tree Ageless Creme work?
The reason Golden Tree Ageless Creme is so effective at fighting wrinkles and many of the other signs of aging is because of the carefully selected ingredients it contains. Indeed, you won't find any other creams that contain our unique blend of ingredients devised by expert cosmetic surgeon, Dr. Med. Fabjan and his team of experts, that deliver just the right properties for skin renewal.
Ingredients in Golden Tree Ageless Creme
Winged Tang (Alaria esculenta) - reduces progerin
Edelweiss - improves elasticity and skin tone and protects cells from oxidative stress
Green tea extract - provides an antioxidant boost and creates a shield that protects your skin against cell damage.
Grapeseed oil - packed with goodies like amino acids, omega-3, and vitamins, grapeseed oil helps plump, firm, and smooth your skin.
Rosehip oil - softens skin, and helps your body produce more collagen due to the high content of vitamin C.
Argan oil - provides antioxidants, as well as deep nourishment and moisturization with vitamin E.
Rosemary extract - antimicrobial and anti-oxidant effects
Indian pennywort - soothes and regenerates the skin
The mechanism by which Golden Tree Ageless Creme works
Some say that our Golden Tree Ageless Creme is magic, but in truth, the reason it's so effective is all science! Indeed, the unique formula of Golden Tree Ageless Creme has been specially designed by experts to perform a very particular function. That function is to lower the level of a protein known as
progerin
in your skin.
Chances are you've heard all about collagen and elastin, but not progerin. Well, progerin acts on the elastin and collagen in your skin, breaking it down and increasing the signs of aging as a result.
Now combine that with the blend of highly effective ingredients listed above and the good news is that Golden Tree Ageless Creme not only reduces progerin, but acts to nourish, smooth, even, and plump your skin too, actively reducing the signs of skin aging, and giving you the glowing complexion you want and deserve.
What are the benefits of Golden Tree Ageless Creme?
In addition to containing some of the highest quality and most effective ingredients available to fight skill aging and reduce the level of progerin in your skin, there are many other benefits associated with Golden Tree Ageless Creme.
The first of these is that it is made in the EU so you can be sure that it meets the rigorous beauty product standards. Golden Tree Ageless Creme is also never tested on animals so you don't have to compromise your values for results. Golden Tree Ageless Creme can also be used on every skin shade, and type. No matter where you're from and what your issue Golden Tree Ageless Creme can help.
Last of all, Golden Tree Ageless Creme has a 100% satisfaction guarantee. That means if you don't adore it, you can send it back to us for a full refund, so you truly have nothing to lose and everything to gain by trying Golden Tree Ageless Creme. Try a tube today!