Nowadays every one either want silky straight hairs or need soft curls for every day. It can be quite hectic to select right hair tool for your hairs because you cannot replace an expensive tool every other day. Today i am going to talk about diamond flat irons by Brilliance New York.
Brilliance New York uses state-of-the-art diamond technology cradled in a sleek diamond flat iron. This makes Brilliance New York's flat irons the ultimate tools for the salon or stylist's kit. They have designed flat irons with an understanding of your need for high quality hair straighteners and stylers. With higher maximum temperatures, ultra-smooth diamond plates and a lifetime warranty, Brilliance New York diamond flat irons are by far the best selection for better results and faster styling
. Let me tell you what type of flat irons they have and how to choose one for you.
Features of Brilliance New York Flat Iron
Maximum Temperature 450°F / 225°C.
Approved to be used during Brazilian Keratin straightening services.
More than 100 different temperature settings.
Ultra smooth Diamond and Titanium 1″ plates.
An Advanced Ceramic heater for better recovery time.
Automatic shut off feature for extra safety.
Built in Ionic Generator for hundreds of millions of more negative ions than other tools.
Cool tip for easier and safer styling.
Far Infra red and Negative ions technology.
Advanced LCD screen for more accurate temperature control.
Dual Voltage – Excellent for traveling internationally.
Lifetime warranty!
How to use flat iron properly
Comb your hair thoroughly to free knots and tangles. Apply heat resistant spray or serum before ironing. Part and section your hairs starting from your ear line and clip the top section up.
Starting as close to your roots as safely possible, place the combed 2 inch / 5 cm section of hair in the center of the two plates of your Brilliance New York Diamond Iron, close the styler with a nice grip.
Slowly and carefully pull the styler away from your roots, allowing your hair to glide through the Diamond plates.
Using less hair is better and sliding the iron down slowly is recommended.
Repeat the above steps for all of your hair, section by section, until you are finished.
Apply hair serum for extra shine and brilliance.
Using flat iron for curling
Insert a 2 inch / 5 cm section of your hair between the plates, gently squeeze the handles together and turn your Diamond Iron upwards toward your head.
After completing a FULL turn, slowly slide your styler all the way down. The hair will bounce into a curl once out of the plates.
To avoid a fish tail- Remember to always keep the hair in the center of the plates and don't go too fast when you get to the tip of your hair. The slower you go the tighter the curl, the faster you go the looser the curl will be.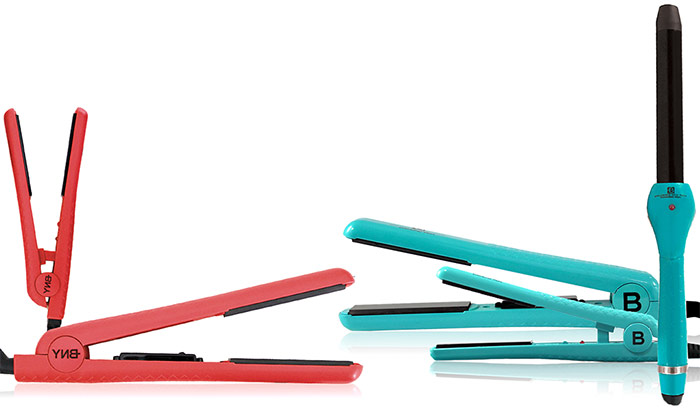 How to select flat iron size for your hairs
Flat irons come in different sizes which are suitable for different hairs depending on length and thickness. If you choose right iron for your hairs, it will be more easy to handle and get results efficiently. As long plates and large size flat irons can be hard to handle and have more risk of burning your hands. However if you have long thick hairs, smell plates can take forever to iron your hairs. Brilliance New York have wide verity of sizes and colors to choose from.
Flat irons for Short thick or fine hairs
For shorter hairs choose flat irons from half inch to one inch to better iron smaller sections. You can also choose mini flat irons which can also be travel friendly. With smaller plate there is less chance of damaging your hairs and iron your hairs quickly.
Flat irons for long thick or fine hairs
For long hairs use flat iron with wide plates from 1 inch to 1.25 inch which will help to iron more hairs in less time as you can iron more hairs in one portion. Wide plates can be up to 1.5 inch for more thick hairs. However 1 inch flat iron is safe choice for all type of hairs.
Brilliance New York have a lot of color and styles to choose from. They also offer duo and trio of flat irons in combination of curling irons and smaller ones. In this way you can get better price and with life time warranty they are hard to resist.