There's nothing wrong with trying to look beautiful for the day and enhancing your face's best features. However, if you have to do a full-make-up every day, it might take forever until you get your face done, causing you to run late for your appointments. With that being said, you might've considered simplifying your beauty and makeup routine but still allowing yourself to look radiant and beautiful.
It would be best to check a
beauty products wholesale distributor
to help you get amazing deals for beauty products you frequently use. Remember that as you simplify your beauty and makeup routine, you need to make plenty of sacrifices. That said, here are some tips you can follow:
Focus On Your Skincare
Prioritizing your skincare routine will help you minimize your makeup routine by at least 50%. Instead of worrying about hiding your skin imperfections, you can address the issue deeply in the skin. You can make it happen by following a good
skincare
routine that gives you radiant and flawless skin.
To begin, you should determine your skin type and issues, then use the appropriate solutions to eliminate them. You can consult a dermatologist for a more accurate recommendation or try some popular skin care products on the market. Unless you have an intense skin concern, you should limit your skincare routine to facial cleanser, toner, serum, eye cream, moisturizer, and sunscreen. In addition, you can look for a sunscreen that has a moisturizing effect to minimize what you have to apply.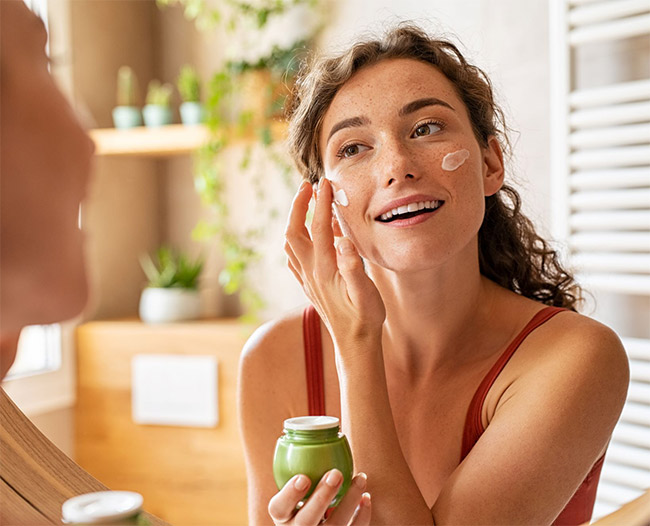 Skip The Foundation
If you already have flawless skin, consider skipping the foundation and allowing for a more natural look for your makeup. You can use concealer and contour to hide some imperfections and give your skin depth and warmth. This should help you get a more natural look without spending as much time applying foundation. Keep in mind that as you use the foundation evenly on your skin, you also need to worry about setting it with a powder to keep them intact and last all day.
Less Is More
With makeup, less is more. While it's fun to put on a full glamour, sometimes, it's easier and more convenient to put less product on your face. Apart from skipping the foundation, you can also omit using eyeshadow and rely on a good eyeliner to help add color to your eye area. Instead of a fully blocked eyebrow, you could try grooming your eyebrows and using a microblade brow pen to mimic the look of the strands of your hair and allow it to look more natural. You can use a tint for your lips instead of a full lip product and let your face look more flushed.
Declutter Your Makeup Stash
When you see that you have plenty of makeup products, it might be tempting to use them once you start with your makeup. To avoid that from happening, you should begin decluttering your makeup stash and only keep what you intend to use for the future.
It's best to keep two stacks for your makeup: one for everyday use and one for a glamorous look. This should help you to declutter your makeup and allow yourself to simplify your makeup routine. You could donate your old products or throw them in the trash if expired.
Use Softer And Natural-Looking Tones
To achieve a simple makeup routine, you should focus on using softer and natural-looking tones for your overall look. It's worth noting that going for glam makeup will require more work as there'll be no room for any imperfections. So, it would be best to get back to the basics, such as using a good concealer, mascara, eyeliner pencil, eyebrow pen, blush, and lipstick. You can easily dab them into your face, as they don't require any brush or sponge to apply them. Moreover, many blushes on the market are cream-based, so you may apply them with your fingers.
Switch To Longer Lasting Makeup
If you need to go out, you'll probably bring some makeup products for a quick retouch. However, this can get very messy, especially if you've applied plenty of products for the day. To minimize what you have to bring, consider switching to makeup that is designed to last for at least eight hours. This way, all you have to bring is a lip product, and you still feel confident in your appearance.
Alternatively, you can let your makeup last all day by using a setting spray or a high-quality
primer
at the end of your routine.
Making your beauty and makeup regimen as simple as possible can result in a more effortless, natural appearance. With a little tweak to your usual routine, you should be ready in an instant, thus allowing yourself to save time and energy. While some might require you to make sacrifices, such as giving up your stash and being more invested in your skincare routine, this should allow you to have the perfect base and simplified makeup collection.