Remote working has become the norm in today's business world. Thanks to modern technology, you can now work from anywhere at home, on the road, or at your favorite coffee shop.
Laptops have become essential equipment for always-on-the-go workers. While most people spend hours picking the
best laptop
for their needs, choosing a laptop bag is rarely given that much attention. However, if you genuinely care about your investment, selecting the best laptop bag should also take priority.
In this case, opting for a leather laptop bag is the smartest choice you can make. Leather bags are known for their longevity and durability and come with a classic, stylish aesthetic.
However, how do you ensure you choose the best leather laptop bag? Consider checking for these qualities and features:
1. Leather Type
When choosing the best leather laptop bag, you want to consider the type of leather used. For the highest quality, look for laptop bags with full-grain leather. This type of leather comes from the top layer of a hide, which includes all the grain, thus the name. Full-grain leather features inherent toughness and develops an attractive, sheeny look as it ages.
Top-grain leathers are also suitable if you're looking for a cheaper option. They offer a more flexible and smoother surface than full-grain and are also known for their durability.
Avoid laptop bags made of bonded leather which uses scrap pieces of leather to create a second-rate version of leather. They don't age well and aren't that durable.
Von Baer CITY Laptop Bag
The CITY Laptop Bag from Vonbaer.com is designed for business professionals who need to take their tech to work. With options for a 15.6 inch and 17 inch laptop with the two sizes, it's versatile enough for most people. The full grain leather is handmade in Italy, and comes with the leather certification Pelle Conciata al Vegetale in Toscana. Shop at
Von Baer
.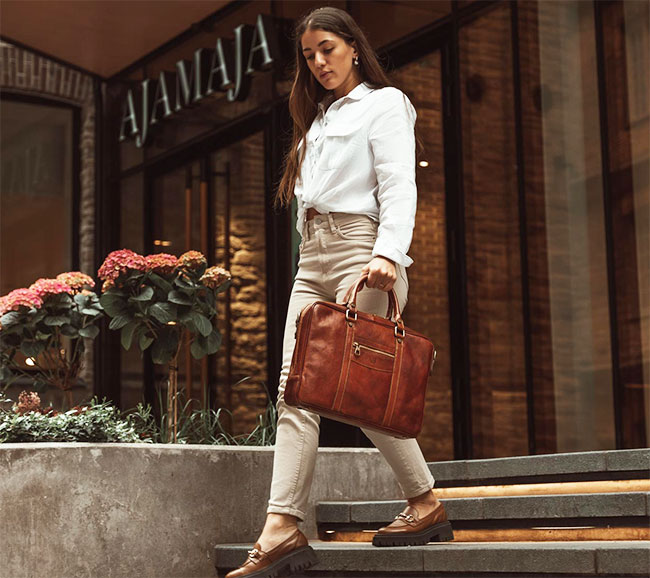 CITY Laptop Bag from Von Baer
2. Right Size And Padding
Laptops are available in varying sizes. You need a laptop bag that will fit your laptop. In general, laptop bags feature a dedicated sleeve or compartment for your laptop. Make sure that this sleeve isn't too small or too big. You want your laptop to fit snugly in the compartment and prevent the risk of damage. Fortunately, most bags will indicate the laptop size they can accommodate.
The best leather laptop bag should have enough padding on the laptop compartment. The thicker the padding, the more secure your laptop is against accidental bumps and hits.
3. Sturdy Hardware
The hardware is one of the most important things you need to check in a quality leather bag. Make sure to inspect the quality of all hardware parts. Mainly, you want to check for zipper quality. Once a zipper fails, your laptop bag becomes useless.
The best zipper is made of brass with nickel or copper plating. It should have teeth that are not sharp with sliders that are also made of brass. Cheap zippers often break when the cloth along the teeth' edges has worn through. So, make sure to look for sturdy zipper-tape fabric.
After the zipper, other hardware parts you need to check to include:
Buckles
Rivets
Locks
Strap Rings
You want these parts to be made of metal such as brass, bronze, plated zinc, and nickel silver. Make sure that these hardware parts are appropriately sized and durable enough for the weight and capacity of the laptop bag. All hardware should be securely attached, preferably reinforced with extra stitching.
4. Comfortable Straps And Handles
The handle and straps are your first contact with the bag. Thus, you want them to feel sturdy and comfortable in your hand. Straps and handles should be constructed from multiple layers of leather and shouldn't feel hollow or flimsy.
The carry handles shouldn't be too long for briefcase-style laptop bags, causing the bag to sway when walking. This only adds increased stress to the connecting points.
If you opt for a backpack-style laptop bag, you want the straps to have enough padding. This ensures comfort and ergonomics when wearing the bag for long periods.
In addition, how the straps and handles are attached to the laptop bag is also critical. There should be an extra layer of stitching where the handle or strap meets the bag.
More than a
fashion
accessory, a laptop bag is an essential work tool that protects your most important office investment. As such, you want to ensure that you only choose the best leather laptop bag that will protect your device for years to come. Be sure to look out for the things mentioned in this article to get the right one for your needs.